CESSAC (Church of England Soldiers', Sailors' & Airmen's Clubs)
The Charity and its aims
CESSAC is a Registered Charity (No.226684) and a Limited Company (No.34118 - registered in England and Wales), grateful for the continuing Patronage of Her Majesty The Queen.  Its principal objectives are to operate amenity centres in military stations and other places at home and abroad and to manage rented housing for elderly ex-HM Forces personnel and their families.  It is a member of Cobseo (the Confederation of Service Charities) and a founder member of the Council of Voluntary Welfare Work (CVWW).  Membership of the latter enables CESSAC to operate in military bases under CVWW's charter with the Ministry of Defence.  It is a signatory of the Armed Forces Covenant and has a bronze award from the Defence Employer Recognition Scheme.
History
The Church of England Soldiers', Sailors' & Airmen's Clubs (CESSAC) started providing a non-proselytising, alcohol-free 'home-from-home' for service personnel in 1857, and has done so continuously since 1880, albeit under a progression of names as it extended its reach from just soldiers to include sailors and later airmen.  Lieutenant Colonel Walker's enlightened founding precept is at the end of this page.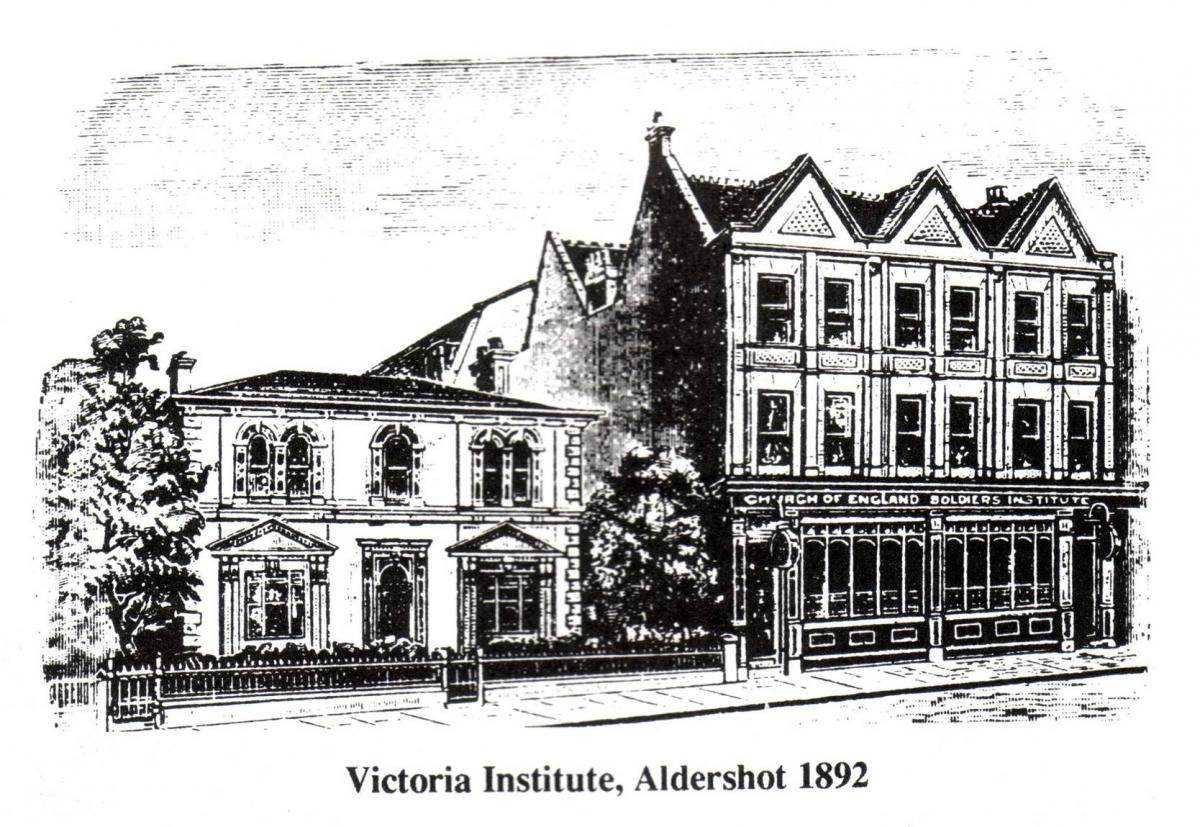 The original Institute (as they were then called), pictured above in Aldershot, inspired similar facilities to be provided in Colchester, Gosport and Woolwich.  These all came together under a single 'umbrella' organisation in 1891 that was eventually called CESSAC.  By 1917 the number of Institutes reached a highpoint when there were 105 worldwide.  Numbers naturally dwindled between the wars, then swelled before decreasing again.  When financial and other difficulties were being experienced by the whole organisation in the mid twentieth century, for a number of reasons the Aldershot Institute 'returned to its roots' and left CESSAC, although the latter continues to provide 3 of its Trustees. The building was sold in 1971 and the Aldershot CofE Services Trust (ACEST) has since used the resulting funds to provide welfare and support to serving personnel within its designated area of benefit in the South of England.  
For a while in the early 1970's CESSAC had only one club (at Dhekelia in Cyprus) and so it was decided to expand into rented housing for ex-service personnel over 60 and their partners - The Church of England Soldiers', Sailors' and Airmen's Housing Association Ltd (CESSA HA) covered elsewhere on this website. CESSAC has since opened & closed a number of amenity centres for serving personnel to meet changing demands and currently operates the facilities listed: 
Current CESSAC Centres 
UK
Cyprus
Falklands
CESSAC Management
In addition to the Head Office staff listed on the contact page, the centres are managed by the following staff:
Director of Operations & 
Area Manager (UK)
:  Sarah Gittins
Tel:  07720 230492
Area Manager (Cyprus): Shane Baker
Tel: 00357 99993212
Cyprus - Office Manager:  Lisa Baker (based at Lady Lampson's Café Akrotiri)
Tel:  00357 25275150
CESSAC's Founding Precept (circa 1881)
That if the Church of England is in any way, as she claims to be, the Church of the Nation, then she ought to provide for the Nation's soldiers, places where they can resort and find rest and healthy recreation and where they can associate on terms of friendly intercourse not only with one another but with chaplains, officers and others who are willing to make their acquaintance.  That with this object, the Church, holding in respect the convictions and opinions of those who cannot conscientiously accept her creeds and formulae and anxiously desiring to include all and exclude none, throws open the doors of these clubs freely to all soldiers without enquiry as to their religious denomination, and in order this feeling of freedom may be practical, she not only asks for no religious profession from those who use them, but insists that there should be no solicitation or interference whatever on religious matters.
No cost donations when buying online with Amazon!
If you use Amazon, please consider clicking on this link before you next buy anything:
https://smile.amazon.co.uk/ch/226684-0. 
This will show a default charity as your suggested beneficiary (seems to be Cancer UK) but offers alternatives and a search box beneath – if you type in 'CESSAC' and click 'search' you should be able to select this as your charity to benefit (you should receive an email confirming this).  This will be at no cost to you, but CESSAC will get 0.5% of the net purchase price (excluding VAT and other shipping fees) of eligible AmazonSmile purchases you make.   Thereafter, if you set smile.amazon.co.uk as your default route to making purchases from Amazon, CESSAC will benefit from each eligible purchase - your shopping experience should be identical to using amazon.co.uk (but you will see a line under the search box saying 'Supporting Church of England Soldiers', Sailors' & Airmen's Clubs'.  
Donations
CESSAC is always pleased to receive contributions towards its work - if you feel moved to do so you can donate simply through one of the following links here: