UN Forces Nicosia, Cyprus
CESSAC UN Nicosia 
A shop and café (with wifi access) within the UNFICYP controlled area, near the Mobile Force Reserve. Formerly a YMCA facility, it opened in 2001.  
While the normal hours are those below, all cafes were told to close on 16 March 2020 due to the Coronavirus Covid-19.
Opening hours:  
Monday to Friday:
8.00 am to 2.00pm 
Saturday:
              Not opening Saturdays at least temporarily f
rom 5 Mar 18 
Since April 2016, CESSAC has also been basing its catering trailer at the Dolphin Swimming Pool nearby to provide a facility for service personnel and their families there during the operating season between April and October.
Contact: 
The Team Leader
Tel: 00357 22359308
Many nationalities use the facilities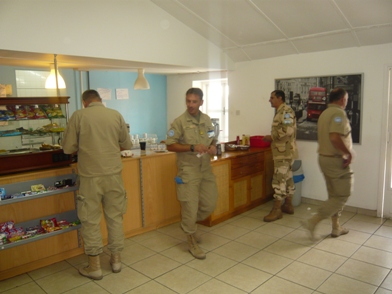 especially the British element of the Mobile Force Reserve